Happy Croptober! Save 30% on our Lab Services
Harvest season is upon us, and there's no better time to ensure your cannabis meets the highest standards of quality and safety. Read on to dive deep into the intricacies of our state-of-the-art testing process and discover why precision matters. Whether you're a home grower or a budding producer, our dedicated team is here to guide you every step of the way. Don't leave your hard work to guesswork. Reach out today and secure your exclusive Croptober discount. Call now and let's elevate your harvest together!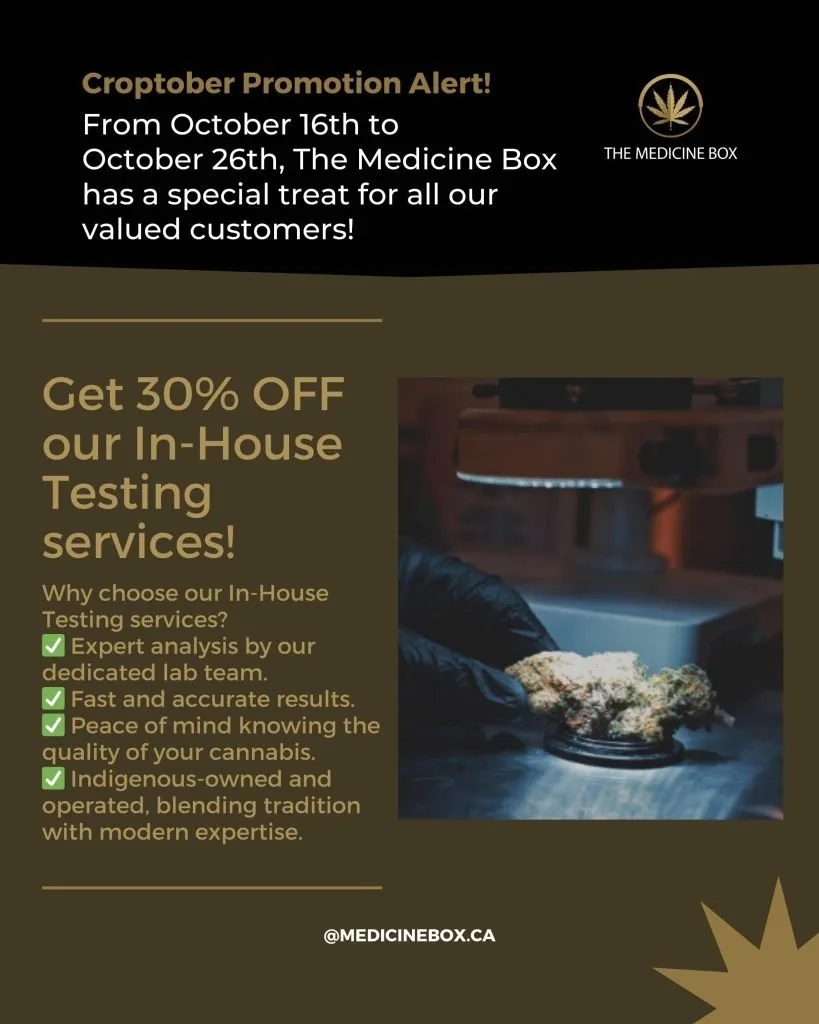 The Medicine Box's 3 Phase MDBX Cannabis Testing Certification Process
Here at The Medicine Box, we take the quality and safety of Cannabis products very seriously. Which is why we're one of the very few dispensaries in Canada to have an in-house quality control laboratory. Whether for flower product or concentrates, our simple yet effective 3-Phase certification process ensures you only inhale things that are safe. When we wondered how we could ensure our clients get only fresh products that were 100% safe to consume, this was the glaring answer.
That way, if it's on our shelves, we're confident that it's safe for consumption. Anything that doesn't meet our quality standards simply gets returned to the producer.
The 3-Phase process is simple. In order for any bud or concentrate to be MDBX Certified, products undergo firstly a microscopic inspection, then a test for toxins and finally a test for potency. Any product that fails on a step is automatically removed and doesn't go through the following steps.
Our core belief is that Cannabis is meant as a Medicine, it's only natural we should see to its quality and safety. And more importantly, you're entitled to know what you're consuming
Our 3-Phase MDBX Cannabis Testing Process makes it easy for you to do that.
Phase 1: Microscopic inspection
Our Lab Technician will check for any foreign or unwanted additives and bud quality with a high zoom stereo magnification microscope. The microscope offers a very high resolution, super wide field of view, a large zoom range and spacious working distance for all our thicker buds. It also provides crystal clear and sharp images.
The 80-LED ring light offers bright and even illumination for optimal viewing. The protocol checks for: bud rot, mold patches, unwanted additives such as Fentanyl, cocaine as well as bigger parasites and their residues. The process will also give us a general view of the colour, transparency and ultimate quality of the trichomes.
Only if the sample receives a passing grade from phase 1 will it be eligible to continue to the next phase.
Phase 2: Toxins Test
This test uses lateral flow assay technology that detects the most common hazardous pesticides, insecticides and fungicides. The equipment has been calibrated to include a total of 66 toxins. This phase will test a broad spectrum pesticides, screening for the total toxicity of the product. To make our decision as simple as possible, the equipment is designed to give either a pass or fail grade.
Only if the sample passes the first 2 phases will it be eligible for the 3rd and final phase.
Phase 3: THC/CBD Potency Testing
Only if the sample gets passing grades on the first two phases will it be approved for the final phase. Our Lab technician will use our light-based (Spectroscopy) potency analyzers to check for THC-A, Delta-9 THC, Total THC, Total Potential THC, CBD-A, CBD, Total CBD and Total Potential CBD. This gives us a final and clear indication of the potency of the product.
Only if a sample gets a passing grade over all 3 phases will it be considered MDBX Certified; And all MDBX Certified products will have a clear indicator at the store to help you feel confident in your choices.